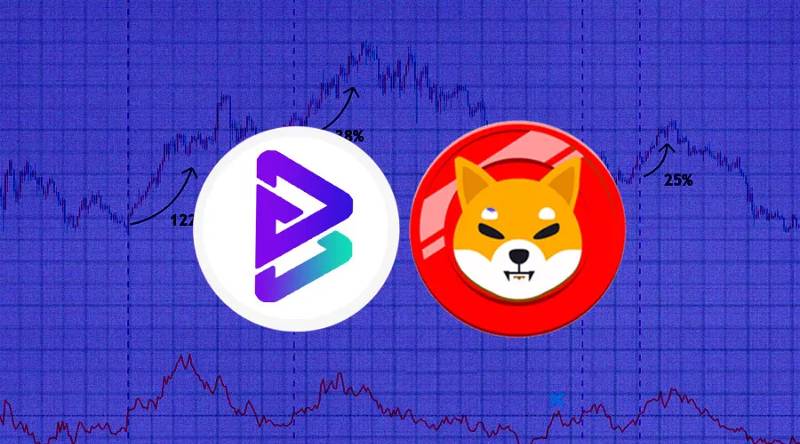 There is a new war in the crypto market going on, that is Bitgert vs Shiba Inu. SHIB and Bitgert both are popular crypto projects in their own category. Relatively Shiba Inu is an old and popular project if we compare it to Bitgert (BRISE), which is the new sensation in the market. Shiba Inu was one of the top performers of 2021 while Bitgert gained the attention of the crypto market in a short-term period. Here we will try to analyze and compare the potential of SHIB and BRISE tokens.
What is Shiba Inu (SHIB)?
SHIB is a meme-based cryptocurrency like Dogecoin. Shiba Inu – a Japanese breed of hunting dog is its mascot. Shiba Inu coin is termed to be an alternative to Dogecoin. As a decentralized cryptocurrency, Shiba Inu was created in August 2020 by a group known as "Ryoshi". There has always been the serious issue of the concentration of the coin with the single "whale" which controls billions of dollars worth. Shiba Inu is often considered one of the best altcoins. If it comes to market cap Shiba Inu is a top-15 coin in the market. Shiba ecosystem has two more currencies LEASH and BONE.
What is Bitgert (BRISE)?
Bitgert is one of the most popular coins in the market that is touching new highs in 2022. There are many reasons, that make Brise Coin popular. Bitgert has its own blockchain BRC20 that claims to be fast and cheaper than some existing Blockchain like Ethereum and Solana. The Brise Coin is the utility token of the Bitgert ecosystem that can be transferred from peer to peer network. Bitgert has many products that include Audit Solutions with Leaderboard Support, BRISE dApp Wallet, BRISE staking, BRISE Swap, and Bitgert Bridge. If it comes to use cases Bitgert is clearly the winner in the SHIB vs BRISE war.
Shiba Inu vs Bitgert: Comparative Analysis
| | | |
| --- | --- | --- |
| Comparison Basis | Shiba INU (SHIB) | Bitgert(BRISE) |
| Launched In | August 2020 | July 2021 |
| Founders | Ryoshi | Anonymous |
| Blockchain Protocol | Ethereum | Bitgert |
| Token Type | ERC-20 | BRC-20 |
| Explorers | Etherescan | BSC Scan |
| Use Cases | NFT, Wallet | Wallet, Staking, DeFi, NFT, dApps |
| Market Capitalization | $6,641,974,353 | $267,950,227 |
| Total Supply | 999,991,159,252,979 | 1,000,000,000,000,000 |
| Consensus Method | Proof-of-Stake | Proof-of-Authority |
| All-time high | $0.00008845 | $0.00000404 |
| ROI | 743266.88% | 685743.64% |
| Price Prediction (2030) | $0.001 | $0.007 |
| Trading Exchanges | Binance, Coinbase, FTX | KuCoin, Gate.io, MEXC |
| Supported Wallets | Trust Wallet, Metamask | Metamask |
The comparative analysis is based on the data found on CoinMarketCap, Coingecko, and other online sources.
Features of Shiba INU
Shiba Inu Coin is completely designed and run by its decentralized community.
Shiba encompasses three tokens that are Shiba Inu, LEASH, and BONE.
Shiba Inu supports staking and thus the users can easily stake their tokens and earn passive income.
The Shib platform holds multiple utilities that include NFT and Defi platform.
Pros
Shiba is very economical.
It is ERC 20 token.
Very much engaging community.
Well established in the market and available on premium trading exchanges.
Cons
As meme crypto, Shiba Inu is extremely volatile.
The blockchain has no freedom to be independent.
It is not the first dog-based meme coin.
Features of Bitgert
Bitgert or Brise platform offers near to zero gas fees and high-speed cross-chain transactions functioning on Bitgert (BRC 20) which offers rewards instead on BNB.
Brise bridge is an entirely secured main gateway system that offers users the to keep storing, sending, and receiving cryptos.
Brise is fully decentralized and transparent where buyers and sellers are sold and bought directly with zero fees transactions.
Brise chain directs 5% on every transaction fee as buyback,3% for marketing, and 4% for stake reward.
Pros
Bitgert is the fastest growing platform with its own Blockchain.
It has a very strong development team.
Bitgert offers zero transaction fees and it is very fast and secure.
Have real use cases
Cons
Brise is not widely available on all crypto platforms.
The developers are completely anonymous.
This platform needs to gain users and confidence to become successful.
Shiba Inu vs Bitgert: Which one you should buy?
If we go through past performances or returns on investment, Shiba Inu is a clear winner. The ROI of Shiba Inu is 743266.88%, and Bitgert Coin's ROI is 685743.64%. However, if we compare the current market situation SHIB Coin is struggling to manage its position. That is the reason many Shiba holders are moving towards Bitgert coin. While we are looking at the history of Bitgert, we have found that this coin is doing well in the current market situation.
As we found through crypto forums, the Shiba community is so much influenced by the popularity of Bitgert coin because of its fast-growing ecosystem. Bitgert project is just 12 months old but achieved a lot in a short amount of time. There are many projects that Bitgert released since its inception including Omniaverse and Miidas. Due to its own blockchain and real use cases, people are moving toward Bitgert.
As we can say that Shiba Inu (SHIB) was one of the best performers in 2021, rallying by 48,000,000%. Many price prediction shows that SHIB Coin Could reach $0.0001 in 2025 if the crypto market recovers. Same expectations investors have with Bitgert. As per our Bitgert price forecast, the BRISE Coin can hit the maximum price level of $0.000085 in 2025. If it comes to market share SHIB Coin is a huge project. Bitgert is also growing fast and now it is a top-250 crypto project by the market cap.
Shiba Inu vs Bitgert: Which one will hit the 1 Cent first?
As per our price forecast, both cryptos are not going to hit a 1 cent cap at least in this decade. These both coins have a high token supply which is a technical glitch. With such a high token supply, it's almost impossible to touch a 1-cent cap. If the Shiba Inu team or Bitgert team reduces its 50% supply, it may create a situation where we can expect a 1-cent target. If you have chosen Shiba Inu or Bitgert for your retirement plan, they both may hit a 1-cent cap between 2035 to 2040. In the long-term Shiba Inu and Bitgert may reduce their supply by at least 50-60%.
Final Words
If it comes to investing, we suggest our readers conduct the maximum possible research before making any crypto investment. Cryptos are not just the most profitable but riskier assets as well. Sometimes cryptos behave like a roller coaster journey and if you're investing without proper study, you may lose your investment in this game. These days market is going through a hard phase so a risk analysis is essential before any investment decision.