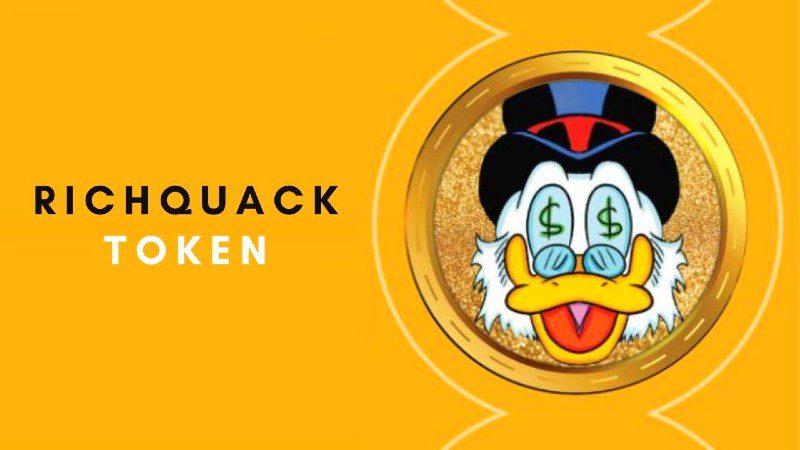 There are many new meme coins that gain huge popularity just after launch. Rich Quack Token is one of them. If you are asking how to buy Rich Quack Token? or Where to buy Rich Quack (QUACK) Token? This guide can be helpful for you. Here we will try to explain how you can add QUACK tokens to your crypto portfolio.
What is Rich Quack Token?
Rich Quack is a BEP-20 token on the Binance Smart Chain. It has been independently audited by Techrate, a highly reputable auditor in the crypto space. By nature and popularity, Rich Quack looks like a promising project in the long term.
Rich Quack lives on the Binance Smart Chain (BSC), which is the go-to chain for meme coins, thanks to its low fees and fast transaction times. Rich Quack aims to attract enough retail investors that will propel it to new all-time highs.
The Rich Quack trading began on June 9, 2021. Since the Rich Quack Token has shown a great performance. The Quack token reached an all-time high of $0.0000002111 on December 2021. The QUACK Token was trending in many countries like Canada and USA when their performance was at its peak.
How To Buy Rich Quack Token?
Interested buyers can easily get the Quack coin at PancakeSwap. Now let's find out how to buy the Coin below:-
First, you need to install Trust Wallet or Metamask app to buy Rich Quack Crypto. (Visit here to know How to Buy Crypto with Metamask?)
After the first step, you need to buy BNB and transfer the Coin to the Metamask wallet.
Once you transferred the BNB, tap on the buy now option or the connect wallet button.
Next, mention the amount of BNB you want to swap and set the slippage for 12% to 13%.
Confirm your swapping and now start trading with Quack coin.
Be aware that, this method can be a little costly because you need to pay gas fees for swapping. The gas fees on Pancakeswap or metamask can be usually high. We are also providing a list of crypto exchanges where you can get Rich Quack tokens.
Exchanges that are offering Rich Quack tokens
As a popular meme token, QUACK got listed with many crypto exchanges recently. The QUACK is also now on the list of top meme tokens. So, you shouldn't find it difficult to get the Rich Quack tokens.
There are many crypto trading platforms that are offering Rich Quack tokens for public trading. If you wish to buy the QUACK Tokens the top exchanges are currently MEXC, LBank, Bitmart, Hotbit, Gate.io, PancakeSwap (V2), LaToken, and DigiFinex.
By signing up on such platforms you can easily add Rich Quack tokens to your portfolio. You need to also check out your local exchanges that may offer Quack tokens in the upcoming months.
Never forget that volatility drives the crypto market and new tokens can be extremely volatile so before making any purchase do your risk management properly and must analyze the potential of every digital asset before making any investment decision.