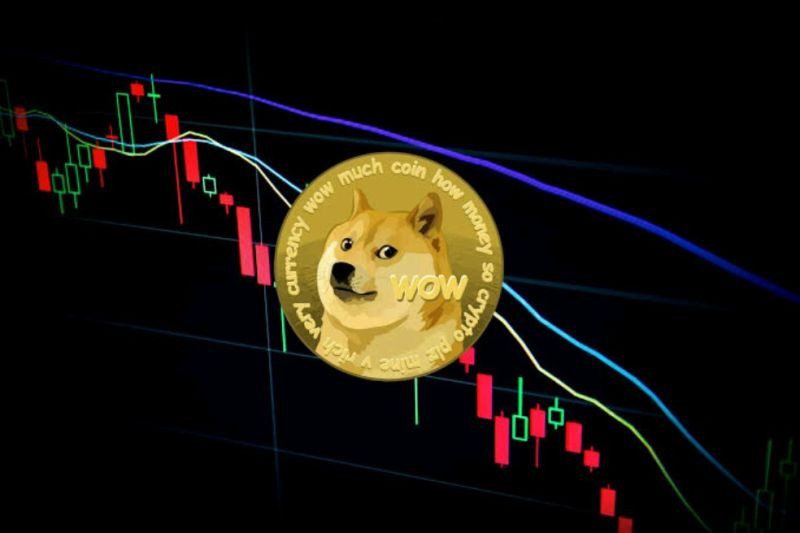 Can Dogecoin Reach $1, $10, $100 or $1000? Let's have a detailed analysis. According to some crypto experts, there's a high probability that Dogecoin will reach $1 per coin. $10 per Dogecoin is also likely within this decade.
After rising from about $0.0002 to more than $0.70 in a matter of months, many people have found themselves asking the question "When Dogecoin will touch $1 cap?"
In recent months, the DOGE price crashed more than 70% all the way down to $0.20 before recovering somewhat, Dogecoin still finds itself among the top 10 cryptocurrencies by market cap.
What makes Dogecoin Powerful?
Tesla owner Elon Musk brings Dogecoin into Billion dollar worth crypto. Elon musk continues to express his love for meme-based Crypto and investor who keeps investing in.
However, investors started holding and buying more coin that drafted doge to the moon. It was started with Wall Street Bets Reddit investor group has pumped Dogecoin value along with targeting two stocks also and its price jumped as high as 850%.
Since 2021, the crypto market continues to have a bull run, as Bitcoin breaks the $20k resistance level and heading to reach $100k USD.
In recent tweets, popular rapper Snoop Dogg also joined the party after tweeting the picture of the doge and tagging Elon musk on Twitter. Now we have a question that "Can Dogecoin reach $1, $10, $100, or even $1000?"
Can Dogecoin Reach $1?
Some top experts and crypto analysts from Reddit posted about the projection of Dogecoin and that $1 is the most common figure. As following that and our prediction we could see Doge crossing $1 USD probably after March 2022.
Can Dogecoin Reach $10?
Now looking at the next milestone that is probably $10, $100, $1000, in which $10 is quite possible in the next 2 to 3 years, but $100 USD and $1000 is almost impossible and it can take more than 10 to 20 years from now.
Dogecoin sees huge growth in market cap volume and as per the top exchange portal, Doge demand increases, and more investors started holding doge in their portfolio. Dogecoin still battling for 9th position in CoinMarketCap.
Can Dogecoin Reach $100
It would be nearly impossible for Dogecoin to reach $100 because there isn't quite enough money in the whole world.
Every $1 that the Dogecoin price was to increase would require an additional $180 billion in 2030. To reach $100 by 2030, then, there would have to be $18 trillion invested in Dogecoin.
Global GDP is estimated to be about $87 trillion. The GDP of China is around $15 trillion, while the GDP of the U.S. is about $21 trillion.
In other words, a $100 DOGE price would require a market capitalization of more than the annual gross-domestic product of the entire nation of China by the year 2030. It doesn't take a market genius to determine that this simply isn't going to happen.
The Musk Factor
Elon Musk keeps continues to support Dogecoin almost every month so even if prices start dipping then one tweet is enough re-pump. As we know Elon musk has a huge fan following with over 45 million active followers on Twitter that must be the reason why one tweet changed the momentum of DogeCoin.
As we know that the Dogecoin future is depending on memes and Elon musk is exactly doing the same with creating memes. So, HODL Doge will be a great deal as of now and it continue to set new ATH, and probably very soon $1 will be reality. Thanks to Elon Musk for bringing Dogecoin back to the top 10 and we could see a huge demand in the future.
The celebrity endorsements seemed to have had the most obvious effect on the DOGE price. Some have accused DOGE of functioning as a giant pump-and-dump scheme because of its quick rise and fall.
How to Buy Dogecoin?
After the doge spike, it got listed almost on every crypto exchange. Now you can sell or buy Dogecoin at any exchange like Binance, Coinbase, Robinhood, or Huobi, as almost every trading platform is offering this meme coin. You can now store DOGE on an exchange or in a Dogecoin wallet, and tip Dogecoin in any community that accepts Dogecoin.
For year to year Dogecoin price prediction you visit Dogecoin Price Prediction 2021, 2022, 2025, 2030