Best Crypto Trading Platforms: Many people believe that cryptocurrencies are the future of finance. When you're ready to dive into crypto, choosing a broker to trade or invest in cryptocurrencies is one of the most important steps to your success in the crypto market.
We believe the safety of your investment should be a top priority when choosing a cryptocurrency exchange, and each of our favorite exchanges clearly details which security measures they have in place to protect consumers.
We've compiled some of the Best Crypto Trading platforms for buying and selling crypto assets. Keep reading to find the best option for you.
Top-10 Best Crypto Trading Platforms
1. Coinbase
Coinbase is considered the best crypto trading platform in the USA. It is currently the largest cryptocurrency trading platform in the United States by trading volume with over 20 Billion in total trading volume.
Coinbase is also one of the safest cryptocurrency exchanges with no reported hacks or compromises of the security systems and wallets resulting in any loss of funds due to criminal activity.
Coinbase offers more than 80 cryptocurrencies, including Bitcoin, Ethereum, Litecoin, Dogecoin, and Ripple. The exchange also offers multiple investment options for individual and institutional clients.
Coinbase has revolutionized the digital currency environment by providing a simple, reliable, and easy-to-use platform.
Advanced users will enjoy Coinbase Pro, which provides more powerful tools for power users looking to dive into cryptocurrency trading.
Kishu Inu Coin Price Prediction 2021, 2022, 2025, 2030
2. Binance
Binance US was formed in 2019 after Binance halted its services to US traders. The exchange primarily caters to US investors, and it supports more than 50 cryptocurrencies.
Binance.US is one of the most popular and trustable crypto trading platforms in the USA. When it comes to staking rewards, you can earn from 1-10% for holding different crypto assets over a period of time.
For instance, if you held 20 QTUM, you'd earn 1-2% back as an annual reward. If, however, you instead purchased and held at least 0.5 ATOM, you'd be eligible for an estimated annual reward of 6-9%.
Binance also offers a wide range of features for institutional clients. These include its Websocket feed that produces real-time market data, a trading API, OTC trading portal, institutional monthly staking rewards, and 24/7 customer service.
Harmony One Price Prediction 2021, 2022, 2025, 2030
3. Gemini
Gemini is a New York-based crypto trading platform founded by the Winklevoss twins. This platform is known to provide a legitimate cryptocurrency exchange that is licensed and regulated by the New York State Department of Financial Services (NYSDFS).
Gemini provides a secure place for individuals, traders, and institutions to buy, sell, and store digital currencies and also earn interest.
The exchange was voted as the best Bitcoin exchange in the USA and maintains a high level of security that has built a solid reputation in the industry as a trusted digital asset provider.
The best part of this exchange is it gives you the option to receive up to 7.4% interest on your crypto balance, while Gemini Pay gives you the option to use your assets for purchases at more than 30,000 retail facilities across the US.
Shiba Inu Coin Price Prediction 2021, 2022, 2025, 2030
4. Kraken
Founded in 2011 Kraken is a California-based crypto trading platform. The exchange is a top 5 exchange based on traffic, liquidity, trading volumes of spot markets according to CoinMarketCap.
Kraken is a licensed and regulated crypto exchange in the US with FinCEN, except for customers in Washington state (WA) and New York (NY). Kraken has 80+ cryptocurrencies with an array of options both for retail investors and institutional investors.
When it comes to global support, Kraken has a bit more reach than Binance.US. The exchange currently supports traders in nearly 200 countries.
Kraken also offers margin trading and futures trading. With its margin accounts, you can borrow up to five times your account balance to trade crypto assets.
Baby Doge Price Prediction 2021, 2022, 2025, 2030
5. CEX.IO
Based in London, CEX.IO is a global crypto exchange supporting traders in more than 99% of countries worldwide, including 48 US states, according to its website.
The exchange also gives you access to bitcoin and more than 80 other crypto assets. CEX.IO is one of the oldest cryptocurrency exchanges in the world for crypto buyers and sellers and is trusted by over 3 million users.
CEX.IO is a world-class exchange and one of the best crypto trading platforms that cater to all types of investors with its easy-to-use interface, making it ideal for beginners and experienced investors.
Floki Coin Price Prediction 2021, 2022, 2025, 2030
6. Bittrex
Bittrex is one of the most notable crypto trading platforms. When it comes to account security, Bittrex is difficult to beat. Bittrex's transaction fees are also notably lower compared to other exchanges.
Bittrex supports crypto-to-crypto trading and lists the largest number of cryptocurrencies i.e. over 190, that users can trade over different cryptocurrencies.
Unlike many of the crypto trading platforms listed above, Bittrex charges absolutely nothing for deposits (USD deposits and withdrawals have no fees either).
Besides the high level of security and quickness in executing trades, you also benefit from low fees – a flat rate of 0.25% on every trade, in fact, being the simplest version of fee explanation that we have seen for cryptocurrency exchanges.
Bone Shibaswap Price Prediction 2021, 2022, 2025, 2030,
7. Huobi Global
HuobiGlobal crypto trading platform, founded and established by Jun Du in September of 2013. HuobiGlobal is one of the most trusted and best crypto trading platforms that was founded in China.
Their headquarters is based in Singapore today and they have offices in many countries. A Huobi exchange review reveals that this cryptocurrency exchange serves millions of users in 130+ countries.
They offer 190+ cryptocurrency pairs and access to just short of 400 markets. Huobi is one of the largest cryptocurrency exchanges based and catering to Asian audiences. Huobi is still ranked within the top 10 cryptocurrency exchanges by volume today.
The Sandbox Price Prediction 2021, 2022, 2025, 2030
8. CoinSmart
CoinSmart is a Canadian crypto exchange that offers a range of popular cryptocurrencies for traders looking to go beyond the standard Bitcoin or Ethereum options.
It has a comprehensive identity verification process in place that is capable of detecting fake addresses or a date of birth. It makes use of a database provided by the data collection agencies. Users get cold storage for each cryptocurrency.
CoinSmart supports multiple funding methods such as Interac, SEPA, Wire Transfers, and all cryptocurrencies. It processes the cash withdrawal requests within 5 business days. It processes the account verifications on the same day.
If it comes to trading fees, Coinsmart charges a 0% fee for Bank Wire and Bank Draft. Up to 6% fee on credit or debit cards. 1% fee on electronic funds transfer, etc.
Cardano Price Prediction 2021, 2022, 2025, 2030
9. FTX
FTX offers a beginner-friendly and easy-to-use crypto trading platform with innovative features to buy or sell. The crypto exchange primarily focuses on providing a stable and secure derivatives market for cryptocurrency trading.
The platform differentiates itself from its competitors by offering a wide variety of indices and leveraged tokens that can be traded on the futures or options market.
FTX uses several bank-like security features to ensure the safety of users' personal information and the security of funds stored on the crypto exchange.
To date, there have been no reported hacks or security incidents that can be attributed to a high standard of security such as cold wallet storage and two-factor authentication to provide a safe and secure trading environment.
Siacoin Price Prediction 2021, 2022, 2025, 2030
10. Robinhood
Robinhood is a beginner-friendly selection for users just starting their crypto journeys. With the company's mobile-first mindset, Robinhood has built an incredibly easy-to-use app, and no fees for trading mean the barriers to entry are extremely low.
As for security, Robinhood utilizes cold wallets to store your cryptos, meaning that the majority of users' funds are held safely offline.
This brokerage's commission-free structure has quite the appeal for those who prefer low-cost investments, but like SoFi and Webull, Robinhood's cryptocurrency selection is on the shorter side.
The investment app-only offers Bitcoin, Bitcoin Cash, Bitcoin SV, Ethereum, Ethereum Classic, Dogecoin, and Litecoin.
Best Crypto Trading Platforms (Based on volume)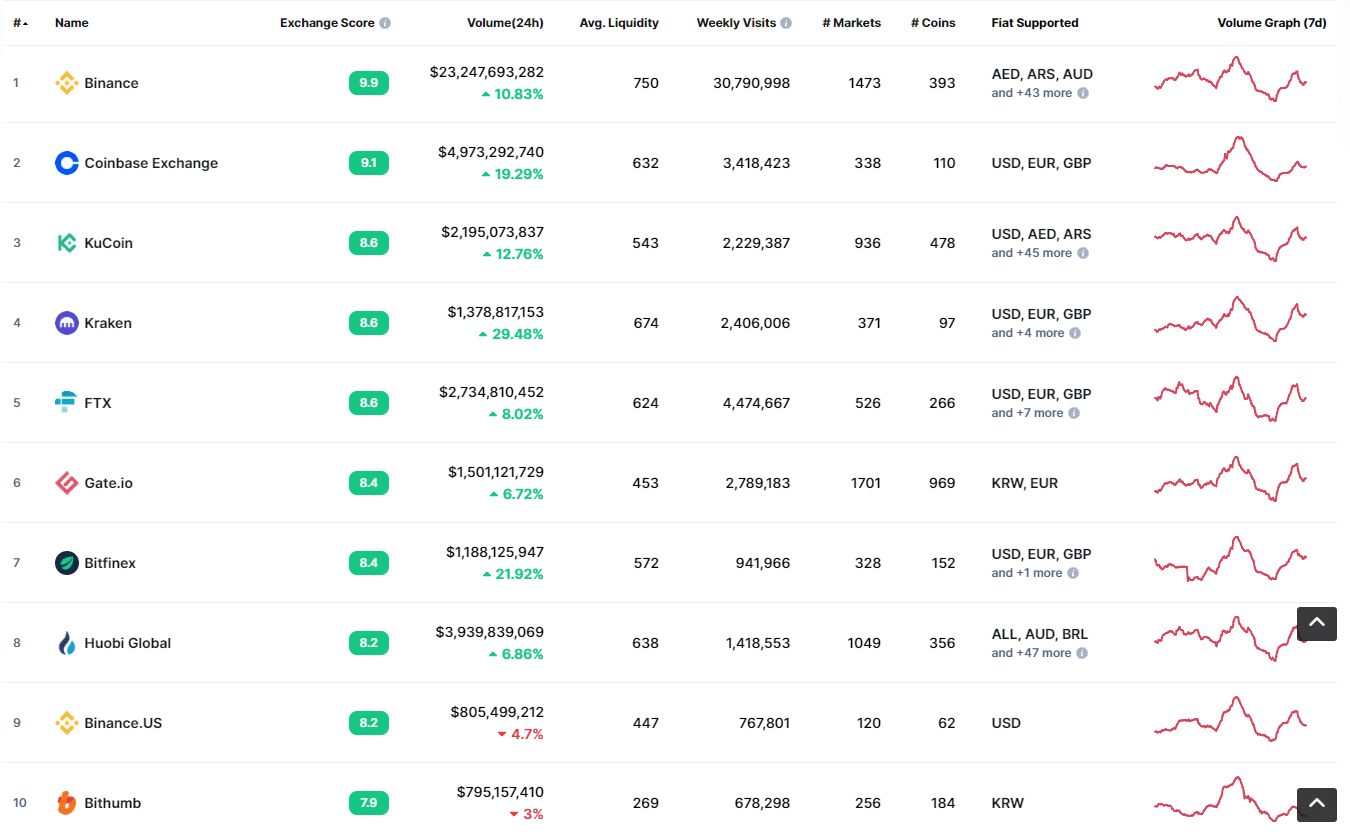 How do Crypto Trading Platforms work?
Crypto trading platforms work almost similar to stock brokerage platforms you may be more familiar with.
Each offers a portal and app where you can create different order types to buy, sell and speculate on cryptocurrencies with other users.
Crypto Trading Platforms can be centralized, meaning they are managed by one corporate authority, like a brokerage company that facilitates the security of trades or decentralized.
Litecoin Price Prediction 2021, 2022, 2025, 2030
How do I open a Crypto Trading Account?
To open a crypto trading account, visit the trading platform's website or download its app. Each crypto trading platform has its own unique registration process.
As the industry has evolved, the governments have introduced certain Know Your Customer regulations to prevent money laundering and fraud. In general, you'll need to provide:
Name
Mobile Number
Email ID
Date of Birth
Pan Card
A Government Issued ID/Social Security number
You need to verify your Mobile Number, Email ID, and your identity by submitting a photo or scan of a government-issued ID.
Polkadot Price Prediction 2021, 2022, 2025, 2030
Things to check when choosing Best Crypto Trading Platforms
Picking the best crypto exchange can be a complicated process, but one thing is common in every crypto trader that they all want a secure exchange.
You must check other important features like fees, KYC process, rate differences in selling/buying, and the list of cryptocurrencies that you wish to buy.
The crypto market is growing but the risk is also increasing. Now crypto platforms are large targets for hackers, so you must check the history of crypto trading platforms.
You can minimize your risk by spreading your crypto purchases across multiple exchanges or moving your crypto off of an exchange's default wallet to your own secure "cold" wallet.
Don't forget to look at fees on the crypto exchanges, especially withdrawal fees and their terms and conditions.